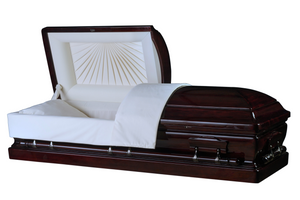 Casket Depot
Solid Mahogany Wood Casket | Kingsburg Mahogany
Funeral Home Price : $7099.99
Our Price :
Regular price
$3,499.99
(You save $3600)
$0.00
Unit price
per
Solid Mahogany Wood Casket
Time-Honored Craftsmanship
Soft Velvet Interior
Urn Shell Design
Adjustable Bed and Mattress
Swing Bar Handle Hardware
Locking Mechanism
Half Couch
Actual product may vary slightly in finish and design
Fully Insured Product Warranty
Suitable for funeral service and direct cremation. 
Free Delivery to all Vancouver funeral homes. Same-day delivery available. 
*Outside Vancouver / Toronto? We can arrange shipment anywhere in Canada at cost

Exterior width of casket: 29″
Exterior length of casket: 84″
Exterior height of casket: 23″
Interior width: 23.5″
Interior length: 79″
Mahogany caskets offer a range of benefits when compared to caskets made from other materials. Below are some of the key advantages that make mahogany caskets a superior choice for honouring your loved one:

Durability: Mahogany is an incredibly strong and durable wood, boasting a greater level of strength and hardness than many other types of wood. As a result, mahogany caskets provide long-lasting protection for your loved one against external environmental factors such as humidity and temperature fluctuations.

Aesthetic appeal: Mahogany wood is known for its unique grain patterns and rich reddish-brown hue, which creates a visually appealing appearance. This refined and tasteful look sets mahogany caskets apart from other wood species.

Stability: Mahogany has a low shrinkage and expansion rate, meaning that it maintains its shape and dimensions under varying environmental conditions. This characteristic helps ensure that the casket remains beautiful and intact over time.

Pest resistance: Mahogany wood naturally possesses a strong resistance to pests, effectively repelling various insects and parasites. This quality allows mahogany caskets to better protect the remains of the deceased, ensuring a peaceful rest for an extended period.

Traditional and cultural value: Mahogany has long been regarded as a prestigious and valuable wood in many cultures. By choosing a mahogany casket, you not only honor your loved one but also embrace the cultural heritage and tradition associated with this revered material.
In summary, mahogany caskets excel in durability, aesthetics, stability, pest resistance, and cultural value compared to caskets made from other materials. 
---
Share this Product
---