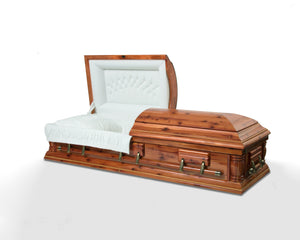 Casket Depot Vancouver
Solid Cedar Wood Casket | American Cedar
Funeral Home Price : $4899.99
Our Price :
Regular price
$2,499.99
(You save $2400)
$0.00
Unit price
per
American Cedar: Exquisite Cedar Casket
Introducing the "American Cedar," an impeccably crafted cedar casket that embodies the perfect combination of strength, aesthetics, and tranquility. Crafted with painstaking attention to detail, this cedar wood casket offers an unmatched blend of natural beauty, resilience, and sustainability, truly epitomizing the eternal rest.
Stunning Design Features
Our American Cedar casket has square corners and a half-couch design, characteristic features that lend it a timeless appeal. The swing bar handled hardware not only accentuates its aesthetics but also makes it easier to transport. This casket comes equipped with a reliable locking mechanism, providing an added layer of security.
Cedar Wood Construction
The construction of the casket is entirely cedar wood - a material celebrated for its strength, beautiful grain, and aromatic fragrance. Cedar is also renowned for its natural preservative qualities that help resist decay and moisture, making this cedar casket an optimal choice for a lasting memorial.
Technical Specifications
Exterior width of casket: 28″
Exterior length of casket: 81″
Exterior height of casket: 24″
Interior width: 22″
Interior length: 79″
Weight: 240 pounds
This is a standard-sized casket that fits effortlessly into a regular burial vault.
Fully Insured Product Warranty
This casket is more than just a product; it's a symbol of love and respect. Hence, we offer a fully insured product warranty to provide you with the peace of mind you deserve during these difficult times.
Experience the Beauty of Cedar
Experience the beauty of natural cedar with our American Cedar casket, an embodiment of excellence and elegance. Honour your loved ones with a tribute as enduring and unique as they were, and let the natural grace of cedar accompany them on their final journey.
---
Share this Product
---