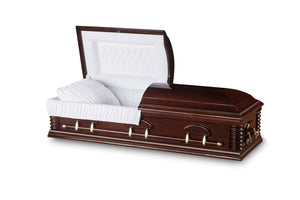 Casket Depot Vancouver
Solid Wood Casket | Esther Walnut
Funeral Home Price : $4699
Our Price :
正常价格
$2,699.99
(You save $2000)
$0.00
单价
每
Elegant Solid Wood Casket | Esther Walnut
Construction & Design:
Solid Wood Construction ensuring durability.
High Gloss Finish for a pristine appearance.
Spiral Corners adding a touch of distinction.
Swing Bar Handled Hardware for ease of transportation.
Locking Mechanism for added security.
Soft Velvet Interior, providing a comforting touch.
Adjustable Bed and Mattress to fit specific preferences.
Specifications:
Exterior Dimensions:

Width: 28″
Length: 83.5″
Height: 23″

Interior Dimensions:
Weight: 220 lbs.
Service & Warranty:
Fully Insured Product Warranty for peace of mind.
Suitable for both burial and direct cremation.
Free delivery to all Vancouver funeral homes.
Same-day delivery available.
---
分享这个产品
---