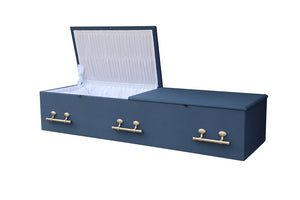 Casket Depot Vancouver
Cloth Casket | Blue Sky
Funeral Home Price : $1299
Our Price :
正常价格
$699.00
(You save $699)
$0.00
单价
每
Introducing the Blue Sky cloth casket – where elegance meets simplicity. As a leading choice for families seeking both beauty and eco-friendly options, this cloth casket stands out in both aesthetics and functionality. 
Material & Craftsmanship: Made from engineered wood, this cloth-covered casket showcases excellent craftsmanship, promising sturdiness while ensuring an earth-friendly choice.
Elegant Interior: Lined with pristine white rayon, the interior resonates with serenity, providing a soft and comforting ambience.
Versatility: Whether you're considering burial or cremation, the "Blue Sky" cloth casket is suitable for both, offering families the flexibility they need during such critical times.
Size & Fit: Tailored to fit standard adult dimensions.
---
分享这个产品
---