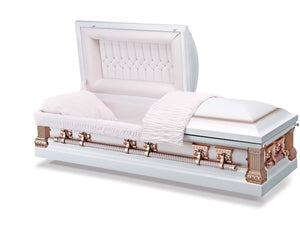 Casket Depot Vancouver
32 oz Copper Casket | Iceberg Rose
Funeral Home Price : $12999.99
Our Price :
Regular price
$5,999.99
(You save $7000)
$0.00
Unit price
per
Introducing the "Iceberg Rose" 32 oz Copper Casket: Serenity and Grace
The Iceberg Rose copper casket is an elegant and refined choice for commemorating your loved one's final resting place. Meticulously crafted with attention to detail, this exceptional casket is designed to meet the highest standards of quality and aesthetics.
Key Features of the Iceberg Rose Copper Casket
32 oz Copper Material: The Iceberg Rose casket is made from 32 oz copper, featuring a beautiful white finish that exudes serenity and grace.
Misty Rose Velvet Interior: The luxurious misty rose velvet interior lining offers a soft and comforting resting place for your loved one.
Squared Corners: The Iceberg Rose features squared corners, adding a touch of modern elegance to its design.
Adjustable Bed and Mattress: The casket comes with an adjustable bed and mattress to ensure a proper fit and optimal viewing angle during visitations.
Swing Bar Handled Hardware: The casket is equipped with swing bar handles for easy transportation and maneuvering.
Locking Mechanism: The Iceberg Rose features a locking mechanism for added security and peace of mind.
Half Couch Casket: This half-couch design allows for a more personal and intimate viewing experience.
Full Rubber Gasket Seal: The casket is sealed with a full rubber gasket to ensure airtight closure and protection from external elements.
Continuous Weld Construction: The continuous weld construction, which completely seals the bottom, guarantees the casket's structural integrity and longevity.
Fully Insured Product Warranty: Rest assured knowing that the Iceberg Rose copper casket comes with a fully insured product warranty.
Casket Dimensions
- Exterior width: 28"
- Exterior length: 83"
- Exterior height: 24"
- Interior width: 24"
- Interior length: 79"
- Weight: 200 pounds
Compatibility
The Iceberg Rose is a standard sized casket and fits in a standard sized burial vault.
Free Ground Shipping & Same Day Delivery Available
Enjoy the convenience of free ground shipping when you choose the Iceberg Rose 32 oz Copper Casket for your loved one's final resting place. Same day delivery is also available to meet your urgent needs.
Experience the unparalleled quality, craftsmanship, and attention to detail that the Iceberg Rose 32 oz Copper Casket has to offer. Trust this sophisticated and serene casket to provide a dignified and fitting tribute for your loved one.
---
Share this Product
---